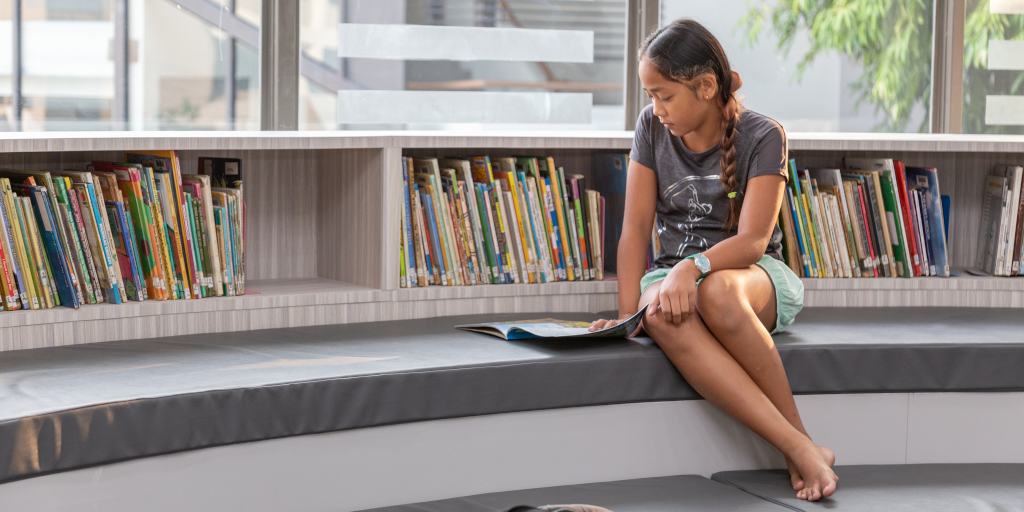 The Learning Center is open from 7:20 a.m. to 4:00 p.m. each school day, including recess and lunch breaks.  Students are welcome to use the Learning Center after school to study or do homework.  Students in Grades K to 5 attend regular library periods during which they are taught library skills and are allowed to borrow books.  Students in Grades 6 to 12 conduct individual or class research in the Learning Center and check out books on their own time.  The Learning Center has multiple computers for student use as well as a printer. Parents are also encouraged to make use of the Learning Center, and may borrow up to ten books for a three week period.  The Learning Center always welcomes donations of appropriate books in good condition.
The lending period for books is 14 school days for Preschool-grade 5 and four weeks for grades 6-12.  Overdue notices are sent out via email to either the parents (Preschool-8) or the students themselves (9-12).  Overdue fines are five baht per book per day, charged on days the Learning Center is open but not on weekends or holidays.  If students have an excused absence from school, they should see the librarian to be excused from fines.  Students may renew, reserve and search the Learning Center catalog online.  Those with library accounts may access their information from the library site.  Students are responsible to pay for lost or damaged books, and anyone who has Learning Center fines, overdue books, or lost or damaged books will not receive their report card until these matters are dealt with.
All textbooks are distributed through the Learning Center. Students are responsible for their textbooks and will be held accountable for lost or damaged books. In the case of lost textbooks, students are fined 50 baht when they collect their books from the Learning Center.  Students will be charged up to 3000 baht for lost or irreparably damaged textbooks. Report cards are not issued to students who have not paid the school for replacement costs of lost or damaged books. Textbooks are catalogued in the checkout system.
Tuition fees cover student texts, but do not include personal school supplies such as pencils, pens, and notebooks.  Students receive a list of required supplies from their teachers during the first week of school.