COVID Protection Practices at CMIS
Image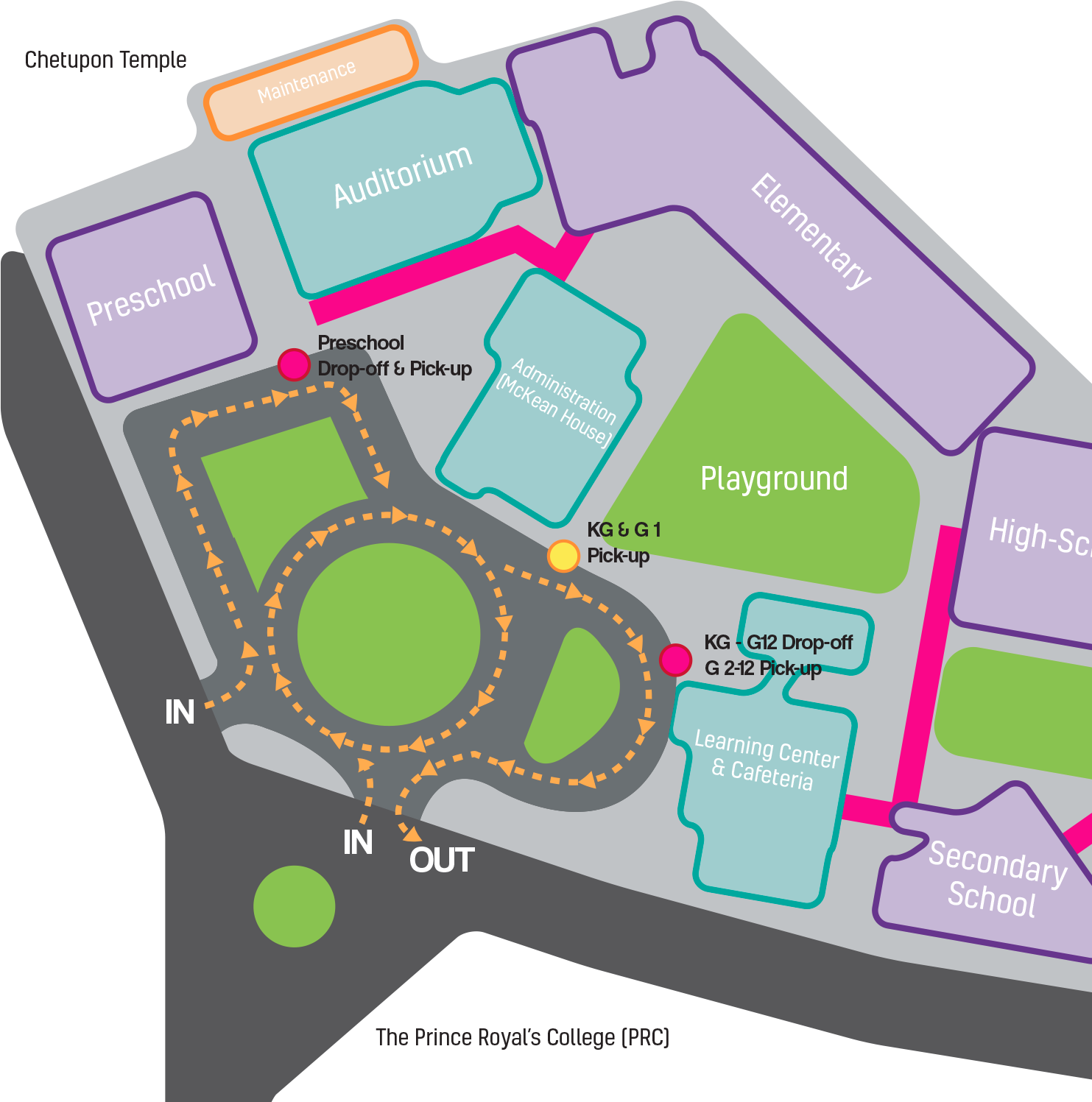 Morning drop off : 7:00 - 7:40am
---
When dropping off of students, parents are to remain in their vehicle.  
All students must wear a mask.
PreK students will be dropped off near the auditorium. 
All other students to be dropped off at the entrance near the cafeteria.
Temperature will be checked and hands will be sanitized before entering the school.
Students who arrive by foot or by bicycle will have their temperature checked and hands sanitized at the gate near the cafeteria.
---
After school pick up: 2.35 - 3.00pm
 The following will apply until further notice:
There will be no after school activities.
All sports are postponed.
The Learning Center will be closed after school.
Students need to be picked up by 3.00pm.
Three places are allocated for picking up students at the end of the day.  Parents are to remain in their vehicle at all times and display their students name and Grade clearly in the windscreen
PreK – Students will be picked up near the auditorium.
KG & Gr 1 – Students will be picked up near the Admin Building entrance.
Gr 2 – Gr 12 – Students will be picked up near the main entrance gate, at the cafeteria. (Some secondary students will arrange to meet their parents off campus or have their own transportation arranged to get home.)
Primary students with older siblings can make arrangements with the homeroom teachers to collect them and meet parents off campus or make their own way home. Please communicate your pick up plan with your child and their teacher.
---
While at school: 
The following apply to all students, faculty and staff on campus:
Masks must be worn at all times.
Frequent hand washing or sanitizing will be required.
Students should bring their own water bottles. 
Shoes are to be removed before entering classrooms.
Chairs/desks will be sanitized by the MS/HS students at the end of each class.
Faculty, staff and students will practice distancing of 1.5m minimum. 
Our dedicated cleaning staff will adhere to strict cleaning schedules throughout the day.
---
Masks: 
All students, faculty and staff must wear a face mask (no vents). It is recommended that they have a spare mask with them. Masks are to be worn at all times other than when eating/drinking and during PE class. Neck straps are advised to avoid loss of face masks when they are removed. 
Distancing: 
 All students, faculty and staff will practice distancing measures on campus. Seating in  classrooms and the cafeteria has been adjusted to help students remain at a safe distance from one another. (1.5 - 2m)
Attending classes: 
 Students can attend classes in-person or virtually.  Students can log into their classes following their assigned schedule to attend their classes in real time. We want parents and students to feel confident with the health and safety measures and we hope that students will attend in person.  We do understand that some of our students are still out of the country as paperwork is completed to allow them to return.
If students are unwell or have a temperature they should be kept home in line with our sickness and exclusion policy.
If, at any point during the day, a student feels unwell, develops a temperature etc we will contact the parents to come and take them home.
If students are attending classes virtually, each child will need a separate computer.  Sharing a computer during the school day is not practical since students will be attending classes as they take place.

For MS/HS students, they will follow their school schedule and attend each class based on a link provided by the teacher. Students will be able to listen in as classes are taking place, ask and respond to questions.  Some classes will have added challenges (PE, Science with respect to labs, Art with respect to supplies, Band … to name a few) but the teachers will be organizing things as best they can to reduce the challenges to make the learning environment more manageable.
PS students will be able to listen in and interact with their teacher and classmates. However, it is likely that PS students, especially the younger ones, will need guidance and supervision at home to help keep them keep on track while attending the instructional portions of lessons and during the classwork portions.  It will likely take some adjustments as days go by but teachers will be doing their best to help all the students learn.
Some suggestions for those attending virtually include:

Have a designated 'school space' (i.e. – desk or table) at home where the computer will be placed;
Have all school supplies … books, notebooks, pens/pencils, etc. in the same area as the computer so it's all close at hand and easily accessible;
Have drinking water available;
The 'school space' should be quiet, well lit, and far enough away from TV, music, and other household noises to reduce disturbances from outside sources;
Parents should allow the students to be as independent as possible (especially in the MS/HS classes) while providing the necessary supervision to keep kids on track and focused;
Students at home should follow the same schedule of class times, breaks, and lunchtime as the students attending in person.
It's important to note that all class times are based on Thai time!